Back to Blogs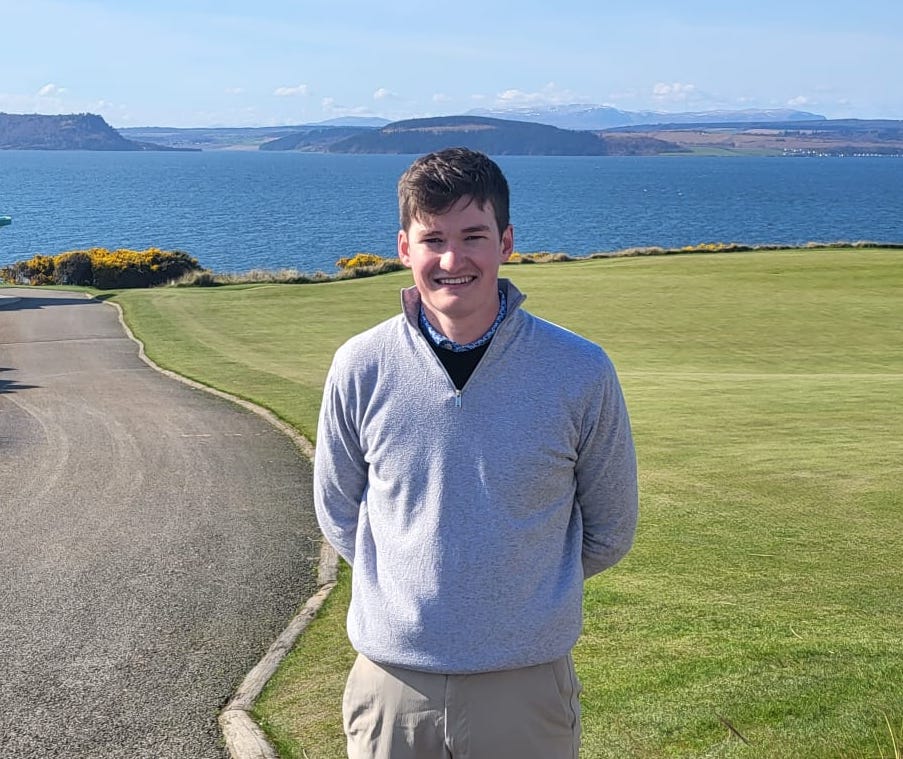 Last year, we ran a blog on Recruitment Resourcer, Finlay Asher who started with Orion Group during 2021. Click here to view
Finlay has continued to excel in his role and gained promotion to 'Recruitment Consultant'. He is now working more with colleagues in Orion's busy London Office and other offices around the World. After starting with Orion Finlay gained a place on Orion's preferred training course and gained the qualification of Cert RP (The REC's Level 3 Certificate in Recruitment Practice) The course is designed for those with a minimum of one year in recruitment and is the equivalent of an A-level. It teaches consultants how to build a thriving career within recruitment.
Best bits about working for Orion
Working for an international recruitment company can be a challenging and exciting career. As an employee of such a company, you are responsible for helping to match qualified candidates across various disciplines with job openings in different locations around the world. Some of the key responsibilities of working for an international recruitment company may include:
Identifying and sourcing potential candidates for job openings in different countries and regions.
Developing relationships with clients and building a network of contacts in various industries and locations.
Conducting interviews and assessments of potential candidates to ensure they have the necessary skills and experience for the job.
Coordinating with clients to schedule interviews, negotiate offers, and facilitate the hiring process.
Staying up-to-date on industry trends and changes in employment regulations in various countries.
Maintaining accurate records of candidate and client interactions in a database or CRM system.
To be successful in this type of role, you need to have excellent communication skills, both verbal and written, as well as strong organisational and problem-solving abilities. You should also be comfortable working with people from different cultural backgrounds and have a good understanding of the hiring process in different countries.
Additionally, having experience in recruiting, human resources, or a related field will be helpful. A degree in business, management, or a related field can also be an asset.
Working for a company like Orion can be a rewarding career choice for those who enjoy working with people, have a passion for matching talent with job opportunities, and are interested in global business and employment trends.
What he is looking forward to
Working with a great team can have numerous benefits, including:
Increased productivity: When team members work together effectively, they can accomplish more than they could individually. The combined strengths, skills, and knowledge of a team can lead to greater productivity.
Improved quality of work: With a great team, there is more collaboration and feedback, resulting in higher quality work. Each team member brings their unique perspective and skills, and together they can create something that is more well-rounded and polished.
Increased creativity and innovation: A diverse team with different backgrounds, experiences, and ideas can lead to more creative and innovative solutions. Brainstorming and bouncing ideas off of each other can lead to unique and effective approaches to problem-solving.
Improved morale and job satisfaction: Working with a great team can make work more enjoyable and fulfilling. When team members feel supported, valued, and respected, they are more likely to be happy and satisfied with their jobs.
Personal and professional growth: Working with a great team can provide opportunities for personal and professional growth. Team members can learn from each other and develop new skills and knowledge that can benefit them in their current or future roles. Working with a great team can lead to better outcomes, greater satisfaction, and growth both personally and professionally.
Advice for anyone else setting out within recruitment
Finlay, what advice would you give to anyone setting out in recruitment?
Understand the job requirements: Recruitment is a competitive field, and it's essential to understand what skills and qualifications are necessary to succeed. Most employers look for candidates with a bachelor's degree, excellent communication skills, and experience in sales, customer service, or human resources.
Learn about different industries: As a recruiter, you'll be responsible for finding the right candidates for various positions in different industries. It's important to have a basic understanding of the industries you'll be working with to understand what skills and qualifications are required.
Develop your communication skills: Recruitment is all about communication, so it's essential to develop excellent communication skills. You'll need to communicate with candidates, clients, and colleagues, so it's important to be articulate, persuasive, and personable.
Build your network: Recruitment is a relationship-based business, so it's essential to build a network of contacts. Attend networking events, join professional organisations, and connect with people in your industry to build relationships that can help you in your career.
Embrace technology: Technology is rapidly changing the recruitment industry, and it's essential to embrace it. Many recruiters use social media, job boards, and applicant tracking systems to find candidates, so it's important to be comfortable with these tools.
Be patient and persistent: Recruitment can be a challenging career, and it may take some time to build a successful career. Be patient and persistent and keep working hard to develop your skills and build your network.
Continuously learn and improve: Recruitment is a constantly evolving field, and it's important to continuously learn and improve your skills. Attend training programs, read industry publications, and seek feedback from colleagues to improve your skills and stay up to date with industry trends.
Rewards of becoming a recruiter
We asked Finlay for his views on the rewards as a Recruitment Consultant?
For recruiters, making a successful placement can be rewarding for several reasons.
It means that they have successfully matched a candidate with a job opportunity. This can give recruiters a great sense of job satisfaction and accomplishment, as we help both the candidate and the client achieve their goals.
Recruiters often work on a commission basis, meaning that they receive a fee from the client upon successful placement. This can provide a financial incentive and reward for their efforts.
Successful placements can also help to build a recruiter's reputation and relationships with both candidates and clients, leading to future business opportunities and referrals.
The combination of personal satisfaction, financial rewards, and professional growth all add up to making a successful placement a rewarding experience for recruiters.
If you feel you have what it takes to be a successful recruitment consultant, why not send your CV through to Orion Group.
Send your CV TODAY to: Orion.HR@orioneng.com