Back to Blogs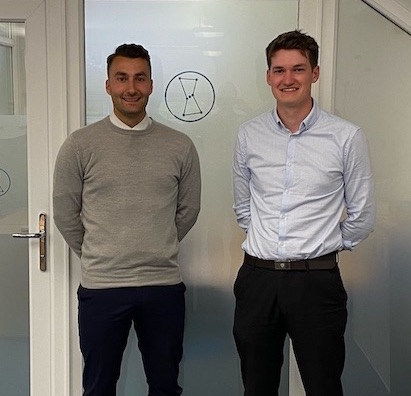 Finlay Asher and Cameron Lisle both joined Orion Group's Inverness office as recruiters in 2022. We spoke with them to find out why they were attracted to Orion and what their job entails.
An Inverness-based company with an international outlook
Cameron Lisle says he fell into recruitment, but it's clear he's found a career that is well-suited to both his career ambitions and his passion outside of work: football. Cameron is 24 and plays for Nairn County Football Club. After finishing his sports science degree at UHI, he was keen to stay in the Inverness area to continue playing for his team. Cameron took a job with a local recruitment company, but he was drawn to Orion a few months later by the prospect of working on more senior commercial roles for our international clients.
His new colleague, Finlay Asher, is also happy to have found work with a large company that can offer opportunities for progression within easy reach of his hometown of Nairn. Before joining Orion Group, Finlay - who's also 24 years old - spent a couple of years at university in St Andrews. "I left university with the intention of changing course, but once I got full-time work, I realised that I got more satisfaction from working than studying," says Finlay. He had no recruitment experience when he sent his CV to Orion, but after a chat with Gavin Beaton, our Group Recruitment Director, Finlay was interested in where the job could take him. He was especially keen after discovering that Orion would put him through the training to achieve a well-respected qualification from REC, the trade body for the recruitment industry. "The course gave me a good idea of everything I need to know, not just about my day-to-day job but about other things such as legal requirements," explains Finlay. "It was great to be put through that training off the bat, despite having no recruitment experience."
Neither Finlay or Cameron went through a typical interview process for their jobs. They describe their conversations with Gavin as "enjoyable" and "conversational", something they both appreciated.
Daily life as an Orion recruitment consultant
Since they joined Orion Group with different levels of experience, Finlay and Cameron have slightly different job titles. Finlay is a recruitment resourcer, and Cameron a recruitment consultant, though their jobs are becoming increasingly similar as Finlay gains experience. They are both focused on the oil and gas and renewable energy sectors, working to fill roles for large energy companies that employ people all over the world. Cameron is working with the team in the Inverness HQ, while Finlay supports Orion's London office.
There's no typical day in the life of an Orion recruiter, according to Finlay and Cameron, but there is a process that they follow when an open position falls on their desk.The first stage is to research the role, to understand the specific skills and expertise required. Next, it's onto jobs boards, LinkedIn and Orion's database of candidates to search for people who are the right match. If they get positive messages back from the people they've identified, then they will have calls with them to check their salary expectations and notice period, and to understand more about what they're able to offer. It's Finlay and Cameron's job to identify the strongest candidates (usually up to three are put forward), get their CVs into shape and then share them with the client.
"The days and weeks fly in: it's an exciting job," says Cameron. "When you've been working on something for a few weeks and one of your candidates gets the job, it really feels worth all the time you've put in."
Thanks to Orion's spread of offices worldwide, there's no need for the pair to work outside of normal UK office hours, despite working on global roles. As Cameron explains, "We have an office in Houston which is six hours behind. So if there's anything needed overnight, they take it on, and we take over again the next morning."
When asked what's most challenging about his job, Finlay has to think for a moment. "Some positions are niche and hard to fill, so it can be difficult to find the right candidate," he goes on to say. "You've just got to persevere. And obviously in this industry you have to deal with a lot of rejection. But I just find that it makes it a lot more rewarding when you do manage to place someone. It's horrible having to make the call to tell somebody they've been unsuccessful, but most candidates are happy that you've been open and honest with them, and grateful for the support they've had throughout the process."
The pair appreciate that their hard work is directly tied to their income: they receive a monthly salary topped up with bonuses for successful placements.
Looking to the future
Cameron talks about his aspirations to gain experience in his role and become a better recruiter, which to him means improving his communication skills and gaining more and wider experience. He'll shortly be undertaking the REC training that Finlay has already completed. Finlay is happy to have found an employer who trusts him in his role and a workplace in which he can be open and honest. He thinks Orion has ambitions and values that match his own.
"You work independently, but there are experienced people around who are always there to help and offer assistance," he says. "You're part of a team, and you get to meet a range of great people every day."
Cameron concurs. "It's a friendly company," he says. "People are always asking how you're getting on. Everyone works hard and is motivated, and at the end of each day, you leave feeling you've accomplished something."
Join our team
Orion Group is looking to add more junior recruiters to the team in Inverness. If like Finlay and Cameron you're results-oriented, a good communicator and like working in a fast-paced environment, get in touch with Group Recruitment Director, Gavin Beaton. or apply direct via the website. Apply here