Back to Blogs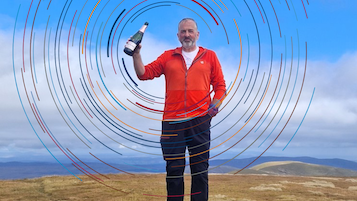 ​We recently had the privilege of speaking with Ross MacRae, an avid hiker who recently completed a lifelong goal of summiting all 282 Munros in Scotland. For those unfamiliar, Munros are defined as Scottish mountain peaks of 3,000 feet or higher, named after mountaineer Sir Hugh Munro. Completing all 282 is a monumental feat that only a select few accomplish, known as "Munro Compleatists."
In our conversation, Ross opened up about the mental and physical fortitude required for this impressive 4.5 year journey. He shared insights into the planning, persistence, and pure passion behind climbing over 400 mountains and 120 vertical miles. We learn about the unique challenges, wildlife encounters, and breathtaking sights along the way.
Beyond the trek itself, Ross reflected on how immersing oneself in nature provides immense benefits for both physical fitness and mental health. He also discussed his appreciation for Scotland's majestic highlands and his collaboration with Orion Group to give back to the region.
Join me as we explore what it takes to achieve this Scottish mountaineering pinnacle and how Ross's pursuit reaffirmed his love for hillwalking. The journey up the mountain is often more rewarding than the view from the top.
Congratulations on becoming a Munro Compleator and climbing all 282 Scottish mountains over 3000 feet (914.4 metres). Can you tell us how much walking you did, how long it took and what else is involved?
I love hillwalking but it is a big commitment in time and effort to become a Munroist. Over the last 4.5 years, I have spent 215 days hiking and have climbed 404 mountains. It has involved walking more than 2,200 miles which is equivalent to walking from Madrid to Moscow and climbing a hill every 5 miles. Along with the physical effort and time consumed, you need to do a fair bit of driving and invest in proper equipment much of which needs to be replaced surprisingly frequently. I enjoy going to remote mountains, so I also have tents and camping equipment to go along with all my hiking gear. From an ascent perspective, I have climbed 120 miles in the 4.5-year period. This is the equivalent height of climbing from Everest Base Camp to the summit 65 times or once every 3 to 4 weeks.
​
Tell us a little about the Orion donation to Highland Hospice?
Highland Hospice are an incredible charity who do so much to support people, their families and carers, living with an advancing, life shortening illness in the Highlands. Orion has a long-established history of supporting Highland Hospice, and we are delighted to continue our relationship with this £20,000.00 donation. The Highland Hospice provide a range of community services and is supported by over a thousand staff and volunteers who enable the people of the Highlands to receive the best possible care and support when faced with life shortening illness, death, and bereavement. On behalf of Orion, I am delighted to share this donation with Highland Hospice.
​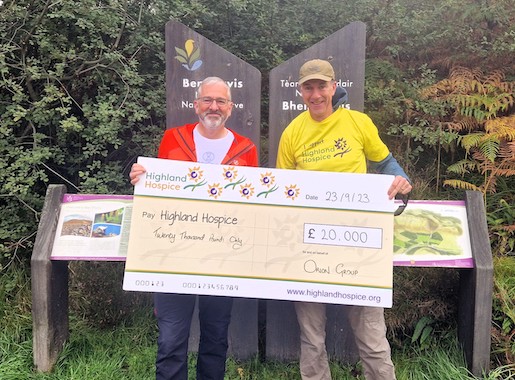 You must see a lot of wildlife when you are on the hills. What animals have you seen, are there any you would like to see, any you don't like, and do you have a favourite?
You see some animals more frequently than others. The animals I see most often are deer (red, roe and reindeer), grouse, ospreys, ptarmigan, frogs, newts, dragonflies, buzzards and my favourite, when init's winter white coat, the mountain hare. I have also seen mountain goats, slow worms, red squirrels, voles, golden eagles, sea eagles, pine martin and even several adders (a rare and secretive venomous snake). I have seen a lot of different types of birds but, beyond the obvious birds of prey, I struggle to identify them. On the animals I don't like, it will be no surprise that they mostly bite, and they include midges, clegs (horseflies), ticks and keds, but I also strongly dislike flies. I have only ever seen Scottish wildcats in captivity and would love to see these elusive and close to extinct animals in the wild.
​
You have climbed a lot of hills. Are there any that stand out more than the others and any that you were not so keen on?
For sheer drama and beauty, little comes close to the amazing Black Cuillin in the Isle of Skye. I have been fortunate to climb the Cuillin in some incredible weather with amazing visibility. All hills are fantastic, and it is often the weather that makes an outing special. Some because the weather was wonderful and sunny, others because the conditions made the hike challenging but equally memorable. More stand out mountain areas for me are Glen Shiel, Torridon, Knoydart, Glen Affric and of course Glen Coe. Two types of hills I enjoy less are hills with man-made structures on them such as access roads, ski lifts and wind turbines as this takes away the feeling of remoteness, and very busy hills such as Ben Lomond or Ben Nevis where you feel like you are hiking in a procession. If there was one peak that I am reluctant to say that I enjoyed, then that would be the Inaccessible Pinnacle on Sgurr Deargon the Isle of Skye. It requires moderate rock climbing and is incredibly exposed with a shear drop of hundreds of feet on the right side of the ridge which narrows down to less than a foot wide. Let's just say I found the abseil of the In Pinn more enjoyable than the 'don't look down' climb up it. Ultimately, I love the solitude of hillwalking and a long day spent miles from anywhere without seeing a single person is something I really enjoy so perhaps my standout hills are the less visited ones.
​
Does the weather impact your hiking much?
We certainly get variable weather in Scotland, so you need to be prepared for anything. This means that you need waterproof clothing in summer and suncream in winter (unfortunately more of the former and less of the later). Temperature clearly impacts on what you wear and how much additional clothing you take, and fog, mist and snow severely impacts visibility and how you navigate. Cloud also brings amazing formations such as cloud inversions and broken spectres (when your shadow is in mid-air as it is displayed on a cloud) which can greatly add to the enjoyment of a day out. I have seen shooting stars when camping, many fabulous sunrises and sunsets and some scary thunder and lightning storms including one where I saw a direct lighting strike on a tree and another strike starting a small wildfire. Strangely, some of the toughest hikes are walks on the hottest days and the coldest days don't necessarily involve snow, they tend to be very wet and windy with freezing rain blasting at you. Along with the terrain, views, mountain complexity and location, the weather is a major part of hillwalking in Scotland, and you should embrace it as you will not be out much if you wait for these occasional blue sky and sunny days.
​
What do you see as the benefits of hill walking?
There are a lot of aspects to this. First there is the outdoors aesthetic. Mountains, forests, glens, and moorland are all beautiful and they look so different across the seasons. Immersing yourself in the landscape for long days or even weekends allow you to drink in the colours and shapes of the hills, flora, and fauna which for me is very enjoyable. The physical health benefits of walking are well documented. If you add in some ascent then hiking becomes a workout and your calorific burn and heart rate will increase and many muscles in your legs, feet, core, and arms will be exercised. On monster hikes, I've burnt as much as 7,000 calories in a day so you can really make your hill walking as tough or easy as you want. It is also worth noting that regular walking has long been known to reduce the risk of chronic illnesses.
There is a growing body of research that demonstrates the mental health benefits of hill walking. Studies have shown that frequent walks are an effective intervention for depression and that walking in green environments improve sleep, lowers blood pressure, and reduce stress. We should also remember that our brains get tired, and the great outdoors is known to calm our brain and make it more meditative which reduces brain fatigue. Lots of benefits to consider before you start looking at the removal of involuntary attention and increased scope for reflection along with other cognitive benefits.
​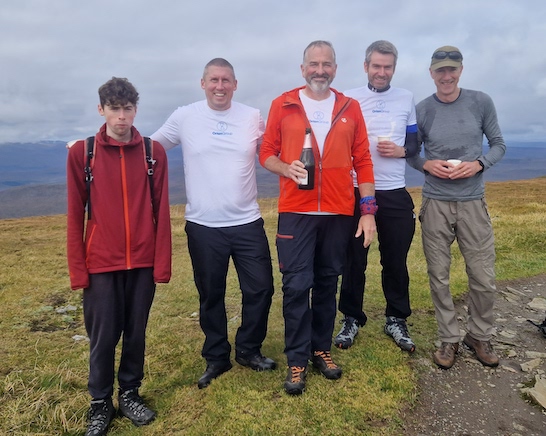 ​