Back to Blogs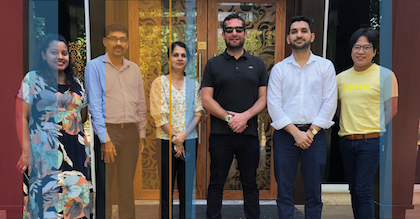 Orion's Middle East and Asia Sales Director, Dave Cordiner, doesn't solely have a professional relationship with the region he covers. Having lived in Dubai for nearly six years, he's got emotional ties too, particularly since two of his children were born in the United Arab Emirates. Now living back in the Scottish Highlands where he grew up, Dave relishes opportunities to travel back to the Gulf Cooperation Council (GCC) to catch up with colleagues, clients and friends. During a recent three-week trip, Dave travelled to our offices in Oman, Qatar and the UAE with a stop at ADIPEC, the world's largest and most influential annual gathering of energy industry professionals. We caught up with Dave to find out the highlights of his trip.
Oman's energy future looks bright
Dave spent the first part of his work trip in our Muscat office, where the Oman team penned an exciting 4-year deal with OQ, a global integrated energy company. OQ have a presence in 17 countries worldwide and appreciate Orion's ability to provide services throughout the entire value chain.Dave works closely with Orion's Global Mobility Team, ensuring Orion can service OQ in all the locations they require support.
Oman is on a path to net zero emissions by 2050, and the Omani government has ambitions to be one of the largest green hydrogen producers and exporters globally, targeting production of one million tons annually by 2030.An example of how Orion is playing a part in this clean energy ambition is via our recruitment partnership with 44.01, an Omani company that's developed technology capable of removing carbon from the atmosphere. Dave mentions that the 44.01 team has been nominated for the 2022 Earthshot Prize, saying, "It was a privilege to meet the dynamic 44.01 team and I am excited to see where their journey leads."
On top of all that, a deal was done with another clean energy company while Dave was in Muscat. These agreements align with Orion's broader diversification strategy into the clean energy sphere.
"The overall outlook for Oman is very buoyant," explains Dave. "Oman is fast becoming a centre of excellence for green hydrogen with 50,000 sq km of land plots allocated for the generation of green hydrogen as part of the Omani Government's net zero strategy, which will give the Omani economy and job market long-term consistency.Orion is lucky to benefit from a strong local partnership in Oman with Shaleem Petroleum, and we will continue to build on this foundation."
Energy security was the main message at ADIPEC 2022
After Oman came Dave's visit to ADIPEC. "I've been fortunate to attend ADIPEC since 2015, and this year was the busiest I have seen, with over 160,000 people through the doors," he says. "It provides an opportunity to meet up with some of Orion's existing customers and hear from industry peers. The underlying narrative of the conference was the importance of energy security. The focus is on maximising energy production and minimising emissions, whilst acknowledging the role traditional hydrocarbons play during the energy transition process as an affordable and dependable energy source."
Other highlights of David's visit to the GCC
The Orion team in Qatar run an offshore construction contract for North Oil Company (NOC), and their dedication to this contract has resulted in zero Lost Time Incidents (LTIs) to date. This milestone was recently recognised by NOC's Chair, who presented a certificate to the Orion team at an HSE supplier forum. As David explains, he was pleased to be able to visit the Qatar team and pass on his congratulations in person. "The team work tirelessly on this major account, and I'm delighted that they've received this level of acknowledgement," he says.
Dave managed to squeeze in a visit to Dubai between Oman and going to ADIPEC, where he met up with clients and heard their views on the outlook for the energy market. "It was great to be back in Dubai and get a chance to catch up with the team in Orion's GCC hub," says Dave.
About Dave Cordiner
Dave joined Orion Group in 2010 and has taken advantage of the international opportunities offered by the company. He took his first overseas post in 2012, heading to South Korea for two years as Operations Manager. Dave then lived in the United Arab Emirates for nearly six years, returning to Scotland in 2020. Asked about his experience of living in the Middle East, Dave says he enjoyed the opportunity to get to know a multi-cultural region that was new to him - and the permanent sunshine was a definite bonus for the golf!
Would you like recruitment support in the Middle East or Asia?
Orion Group has offices in Oman, the UAE and Qatar, and we've worked on a huge range of projects for our clients who are active in the GCC. If you'd like to know more about our recruitment services, contact David directly: david.cordiner@orioneng.com
Sources:
https://fm.gov.om/oman-announces-investment-opportunities-in-green-hydrogen