Back to Blogs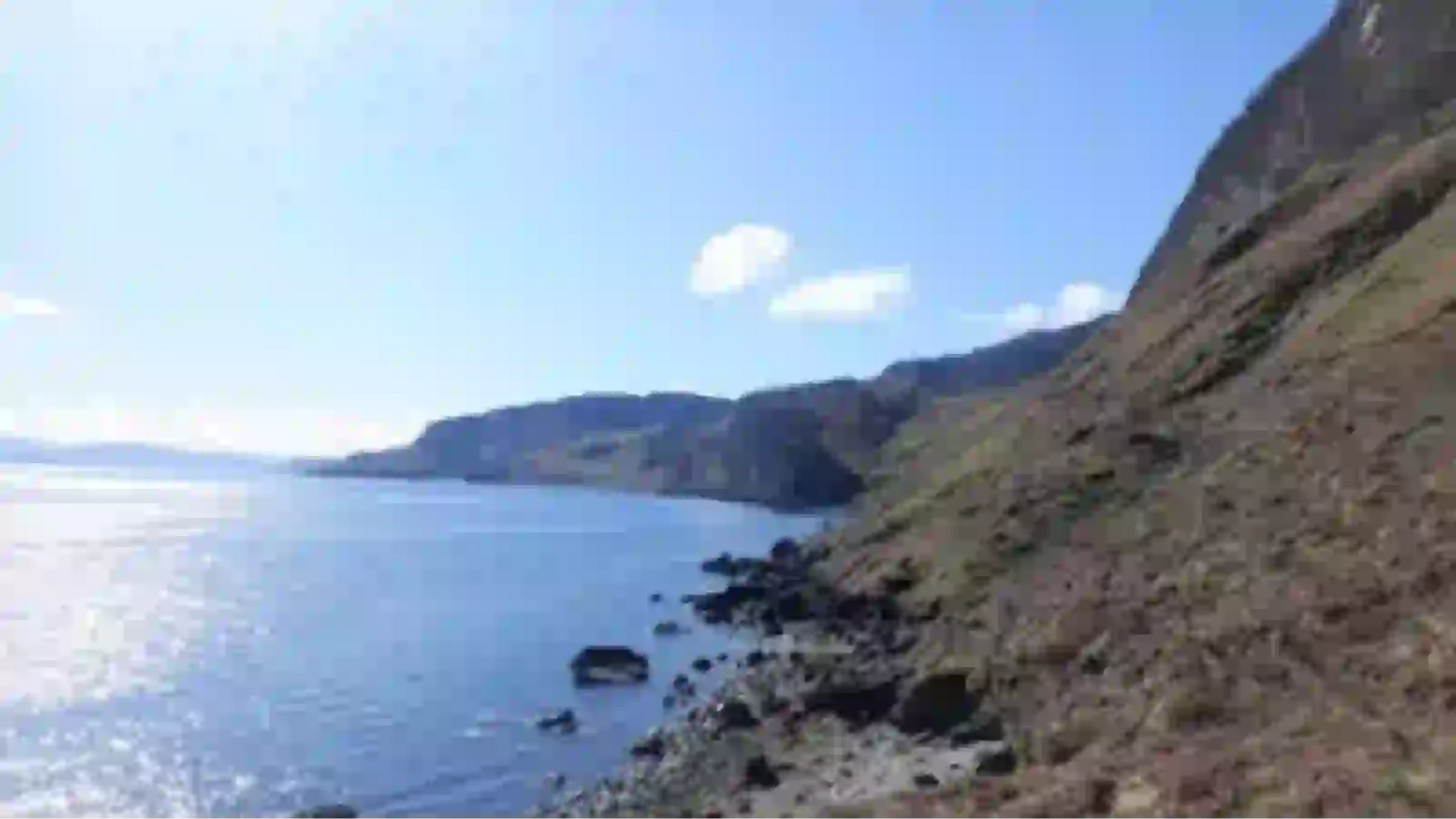 Deputy MD Ross MacRae was moved by the plight of Ukrainian refugees and wanted to do something to support them. Ross mapped out a walk round the Island of Raasay with the target of reaching the most Northerly, Southerly, Westerly and Easterly points on the Isle during a three-day hike. If he still had any energy left, he planned to climb the Island's highest point Dun Cann as a finale.
With support from Orion, Ross set about raising funds and has received incredible backing from colleagues, family and friends. Orion, an international leader in the provision of personnel to a number of industry sectors, sponsored Ross and has also contributed significantly to the Red Cross directly.
Commenting on the Red Cross, Ross said that 'they are in Ukraine and neighbouring countries working to reach people with food, water, medical assistance, protection, and trauma care. We hear of incredible resolve and courage in Ukraine and raising funds for the Red Cross is something that we can do to assist from afar. Our donation will be used to reach people in urgent need.'
As a weekend hill walker, Ross does a fair mileage on foot but stepped things up by daily lunchtime and evening walks along with weekend winter hill climbing. Before his expedition, Ross was walking about fifty miles a week which is a similar length to his trek round Raasay. The challenge however was that that the Island walk would be in just three days and would be across moorland, beaches and hills along with some abandoned township paths and single-track roads.
As the charity walk was of-grid, accommodation would be a tent for the three nights. Ross enjoys camping in summer but, with the country expecting an artic blast and a dramatic drop in temperatures, he was not too sure about the quality of his sleeping arrangements. He was keen to find out if he three-season kit was up to the task.
Asked why he picked Raasay, Ross said that he has a strong emotional attachment to it having lived there as a child. He left Raasay over thirty years ago but returns from time to time to soak up its' solitude and beauty. Raasay is fourteen miles long and three miles wide, has a population of one hundred and sixty people and is six miles from the mainland.
Orion Managing Director had this to say 'we are delighted to support Ross's initiative for such a worthy cause. Ross has set himself a tough challenge which we are confident he will achieve. As a family business, giving back to others has been integral to Orion's success and we are proud to back the Red Cross.'
The day before the expedition, Ross drove the hundred miles from Inverness to Sconsor on the Isle of Skye and caught the ferry across to Raasay. From the terminal, he headed to the location where he was going to wild camp for the night. Ross picks up the adventure from here:
It was only two degrees but felt much colder with the chilly wind. I was wearing several layers of clothes so for now was quite cosy. I had a wander around a small beach near my tent in the fading light and headed to bed early as it was getting dark, and I planned to get up at first light. It rained heavily for large spells through the night, and, with an increasing wind, I was regretting not upgrading my thin sleeping bag to something more substantial. It was a relief to get up at 530am, make a coffee, and get moving again to put some warmth in my stiff joints. Leaving my frost encrusted tent behind, I headed to the car and then the ferry terminal where my walk round the coast of Raasay was to begin in earnest.
It was about 630am when I started the walk and the island was deserted of life. The first few miles clocked by quickly as I entered South Suisnish, past the derelict pier I used to fish from and the nearby second world war mining buildings. I'm off-road now and trekking along the rocky shoreline to reach the most Southerly point of the island. Once I reached Eyre and the automated lighthouse, I'm back to rockier coast and the occasional sheep's path but I'm making good time in the cool morning sun. Next, I have an uphill hike to Fearns through a little wood and then the joy of a path that leads to the long-abandoned township of Hallaig. Hallaig was immortalised in verse in a moving Gaelic poem by the late Sorley MacLean and is an incredible memorial to human cruelty. As you round the Rubha na' Leac point, the views North are spectacular with rugged coastline, a huge waterfall that drops into the sea, the highest hill Dun Caan and the West coast of the mainland with all its snow-capped mountains.
I have some heather bashing to do now below the cliffs of Dun Cann before dropping steeply back down to the shoreline again. You can sense the old communities that lived here with small walled enclosures for livestock, ruins in sheltered spots and the tell-tale broader human tracks which are much better to wander on than sheep's as they don't meander, split, or run out. I spot a herd of deer running up a hill ramp that I may yet take to walk along the ridge 200 metres above the shore if the tide is too high on the cliff engulfed coast.
After a push to make my way across the remaining steep fallen tree lined shores and ten miles in, it is time for a proper sit-down break at the large, abandoned settlement of Screapadal. Following the welcome rest, I plod through the balance of Screapadal and along the old hill path down to Brochel where I will camp tonight. A great day of walking with incredible rock formations, daunting cliffs, nosey seals, and fossil embedded rocks. Sleep was not difficult, and I awoke to sun streaming into my tent.
I set off to walk along Calum's road which he incredibly built to connect his community to the rest of the Island. I soon arrive in Arnish then Torran and a steep climb to join the old township track to Raasay's most Northerly point at Kyle Rhona. I clocked some shy local deer tracking my progress as I take a short detour to the highest point in the North Beinnnan h-lolaire as it has amazing views both South down the body of Raasay or North to Rhona and Eilean Tigh.Some steep heather bashing eventually took me back to the boggy track North with darkening sky's overhead. A further clamber down to the shoreline took me the tiny peninsula Rubha Aird Ghlaisen which is the most Easterly point on the Island and from here, it was just a short walk to the most Northerly point of Raasay.
It was now raining very heavily so it was an abrupt turn and a tough hike South back to where I would camp for a night via a damp lunch under a rocky outcrop. The rain became heavier, and winds gusted up to 35 or 40 mph so I hoped double pegging the tent would be enough to stop me from becoming airborne. Little sleep was to come in the dark howling night and the morning brought no relief. It was good to warm up by starting walking even if my limbs and feet protested. This was a head down slog and several hours later I arrived at my next detour, a climb of the small mountain Dun Caan. Up and down in less than two hours was good going in the flooded conditions and I was soon back to the march South with the rain blasting in my face. The last three miles were tough on my feet, but I reached the most Easterly point at Clachan in the torrential rain and was soon back at the car to remove my sodden gear and get ready for the long drive back home.
All I could think about was a fish supper in Inverness and my warm bed. Several days later, my feet still ache but my walk round Raasay was a wonderful adventure to support a wonderful charity.
Ross completed the 48 miles over 2nd to 4th April. It involved over two thousand metres of ascent which is equivalent to climbing Cairngorm, the sixth highest mountain in Scotland, four times during the course of the trek.
Ross would like to thank the incredible generosity of Chairman Alan Savage and Managing Director Paul Savage along with all his many colleagues that sponsored him. He added that 'Orion is a special place to work and always does so much for good causes.'Ross's Just Giving page is still open and can be found by searching for 'Raasay' on the JustGiving web site or at this link: Round Raasay for Ukraine