Back to Blogs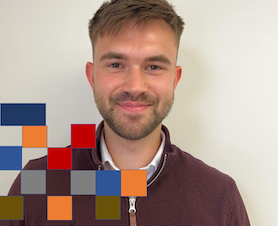 Looking for something different for the summer months, Ronan McBride speculatively submitted his CV along with a covering letter, enquiring about opportunities that may complement his studies. Three months on, he cannot believe how quickly time has passed and is thoroughly enjoying supporting our Head Office recruitment team as a Recruitment Student Intern. We caught up with Ronan to find out how he was getting on.
You are obviously still undertaking your studies, what interested you most about undertaking this recruitment internship with Orion?
Due to the size of the company and its impressive track record over the years I knew I could learn a lot about business and management that would complement my studies. My interests peaked after a chat with Gavin Beaton (Group Recruitment Director) who took a genuine interest and presented learning opportunities for me at Orion.
Before writing to us you will have considered what this role might have involved, but has this met your expectations and are there things that you had never considered were part of this role?
My time so far with Orion has exceeded my expectations. I have been lucky to learn about various functions of the business rather than primarily sticking within the recruitment department, sourcing for our consultants, which has been valuable in giving me a good overview.
What has been the most challenging part of your internship so far?
The most challenging aspect of my internship is completing coursework on time along with working. With a heavy university workload, spending my time learning about recruitment and adding value to the business by working as hard as I can, it has been important to manage my time to make sure everyone is satisfied. I am grateful that Adrian, my line manager, has allowed me to work through university work during my time here, having just completed my first report about the concerns of unconscious bias in recruitment.
While there are similarities, studying prepares you for working life. How different is the working environment and how have you adapted to the work requirements and team dynamics?
There are certainly differences between being in a university bubble and working in a real-life environment. From my perspective communication between colleagues plays an integral role in recruitment to fully understand vacancies and overcome challenges. It is also important to keep up with the fast pace of recruitment to ensure I am helping the Recruitment Consultants effectively.
Are there any specific skills or knowledge areas that you feel you are developing during your internship that you never expected?
As I have entered this industry with no knowledge of how it specifically works, overall, I have learned loads about the day-to-day running in the recruitment department. My main learning point is not realising how vital LinkedIn is as one of the heavily used sources for finding candidates in recruitment. It has also been great learning about other job boards.
Have there been any projects or tasks that you particularly enjoyed working on or felt proud of completing?
More recently I have had the chance to gather an insight into marketing within Orion, which has been great in providing me with a different perspective on the business and just how important marketing is, no matter what the industry. Additionally, I have genuinely enjoyed all the projects and tasks I have been assigned throughout my internship. Each opportunity has allowed me to learn and grow, and I take pride in the work I have accomplished so far.
What aspects are enjoying the most?
I enjoy sourcing for overseas roles as this provides me with the chance to learn about different places around the world and exposes me to be aware of various visa requirements if relevant. Most of all I enjoy being in the office as I have missed the social involvement at university during covid. Everyone in the office is great craic!
What are your future career goals, and how do you think this internship has contributed to them?
While I am aware that the future is uncertain, I aspire to achieve a successful and enjoyable career. Firstly, this internship has significantly enhanced my communication skills. Working with different people and stakeholders within the organisation has allowed me to improve my ability to effectively convey ideas, collaborate, and build professional relationships. I have also built up my confidence in the workplace through challenging projects and tasks I have been assigned, meaning I have been able to step out of my comfort zone and develop a sense of self-assurance in my abilities. Additionally, this internship has provided me with a first-hand understanding of what a great CV looks like and exposed me to the inner workings of a successful recruitment agency. This knowledge will be invaluable as I prepare to enter the job market once I graduate and pursue opportunities aligned with my career goals.
Do you have any advice or guidance for anyone who is considering working in recruitment?
If you are considering a career in recruitment, I highly encourage you to pursue it. While my role primarily focuses on sourcing for roles rather than placing candidates, I have gained valuable insights into recruitment. Recruitment can be an incredibly rewarding profession. Being able to connect candidates with opportunities that can propel their careers forward is fulfilling. Witnessing the impact of your efforts in helping individuals excel in their professional journeys can bring a great sense of satisfaction. However, it requires strong people skills, adaptability, and continuous learning. By developing these attributes and seeking guidance from experienced professionals, you can thrive in this dynamic field.
Ronan is now fully on course for successfully completing the Internship and returning to complete his studies. Orion have benefited greatly from Ronan's time with us, and we are grateful for the contribution he has made in such a short time. We recognise the need for actively engaging with bright minds from universities that bring new ideas and different ways of working to our organisation. We hope to see you again Ronan!