Back to Blogs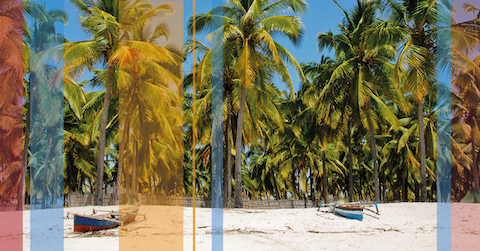 Mozambique is a culturally diverse country in the southeast of Africa, with an azure coastline that stretches for almost 2,000km. It's home to a human population of 32.4 million, and exotic wildlife including elephants, lions, baboons and giraffes. Mozambique is also the location for a host of current and upcoming jobs for a major LNG project that Orion is helping to staff, in collaboration with our local recruitment partner, Heading Mozambique. Read on to find out what it's like to live in Mozambique as an expatriate and to discover more about the roles we have available there.
A Mozambique overview for expatriates
Climate
Mozambique has a rainy season from November to March, followed by often perfect tropical weather from June to October, with clear skies, plenty of sun and almost no rain. The rains start sooner and finish later in the north, and humidity can be uncomfortably high during this time. Temperatures range from 13 to 24°C in July to 22 to 31°C in February.
Languages
Mozambique was colonised by Portugal in 1498, becoming independent in 1975. As a result, Portuguese is the country's official language. However, it is only spoken by around half of the population (generally among those who are more educated), and only 10% use it as their first language. More than 60 dialects of Bantu languages are spoken, including Makhuwa, Changana and Nyanja.
Time Zone
Mozambique is two hours ahead of GMT, making it two hours ahead of the UK in winter and one hour ahead in summer.
Cost of living
Living in Mozambique costs significantly less than in the UK or the US, but not all costs are low, especially if you're trying to maintain a similar lifestyle to that which you had at home. Quality expatriate accommodation can be hard to come by, so prices tend to be pushed up. Expect to pay the equivalent of around $9.50 for lunch in a restaurant, $2 for a cappuccino and $1.58 for a litre of milk.
Education
Sadly, public schools in Mozambique are generally poorly funded, overfilled and lacking in teachers. Most expats prefer to send their children to an international school, of which there are several to choose from. These fee-based schools cover a wide range of curricula, including the International Baccalaureate and UK and US exams, and are found in the main cities of Maputo and Beira.
Healthcare
The healthcare system in Mozambique is improving, but it isn't yet up to the standard of the UK or the US. Expats are advised to take out medical insurance, and some travel to nearby South Africa if medical care is required. It can be difficult to get hold of some medicines in Mozambique, so if you need a regular supply, it's best to bring it with you.
Food
The daily food staple of most Mozambicans is either cassava (manioc), which is cooked and pounded into a soft mound and served with a sauce, or massa, a cornmeal porridge that is also served with a sauce. Rice is the basis of many meals and is often served with beans. Local fruits such as mango, papaya and citruses are widely available. If you like eating out, food from across the globe - including African, Portuguese, Indian, and Pakistani - is served in eateries of all price levels, from upscale hotels to local restaurants.
Our jobs in Mozambique: supporting LNG expansion
TotalEnergies are restarting work on a major LNG project in Mozambique after declaring a force majeure in 2021. Alongside our joint venture partner, Heading Moz, Orion Group is looking for a range of experienced candidates to work on the two-train project, which has the ability to expand up to 43 million tonnes per annum. A range of roles are available, alongside a mix of contract types, including 28/28 shift patterns and full relocation options. At the time of writing, we're looking for a Dredging and Geo-morphological Advisor, an Emergency Response Coordinator, a Marine Manager - and more. You can see all of the open positions on our website and that of Heading Mozambique.
The Mozambique LNG Project will deliver social and economic benefits to Mozambique. ​Its geographic location is beneficial for meeting both Atlantic and Asia-Pacific market needs, as well as tapping into the growing energy demands of the Middle East and Indian subcontinent. As well as creating jobs in Mozambique, the project requires support in other locations, including Singapore, Milan and Houston. To keep up-to-date with new roles as they become available, sign up for job alerts on our website.
Sources
https://mzlng.totalenergies.co.mz/en/about-mozambique-liquefied-natural-gas-project
https://www.orionjobs.com/Mozambique-LNG-jobs
https://www.heading.co.mz/orion-group-invests-in-mozambique-in-partnership-with-heading-mozambique/
https://www.expertafrica.com/mozambique/weather-and-climate
https://livingcost.org/cost/mozambique
https://www.internations.org/mozambique-expats/guide/living-short
https://www.expatarrivals.com/africa/mozambique/international-schools-mozambique
https://www.britannica.com/place/Mozambique/Education
https://www.iexplore.com/articles/travel-guides/africa/mozambique/food-and-restaurants