Back to Blogs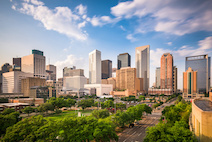 ​We recently caught up with Orion Group's Ross MacKay, VP of Operations in Houston. We asked Ross to shed a spotlight on our US operations and provide an insight of his journey that took him all the way from The Highlands of Scotland to running our energy operations in the US.
Ross was born in Thurso in the Highlands of Scotland. He went to university in Inverness and finished in 2006 before joining Orion in Inverness as a recruitment resourcer in 2007. He worked on several global projects and was heavily involved in Orion's foray into Kazakhstan, which he visited on numerous occasions, building relationships with clients. He moved to US as Recruitment Manager for Orion in 2011 and took-on role of VP Operations in 2016. This month Ross celebrates his 15 year anniversary with the company.
Our Houston office celebrates a significant milestone this month – its 20th anniversary. Following the early success of Orion in the U.K, Eurasia and the Middle East, it seemed appropriate that the next step would be to branch out to North America. We opened our flagship office in "The Energy Capital of the World" in 2002.
Houston has seen quite the transformation in the last 20 years with the population of the Greater Houston Metro area growing an incredible 60%, making it the fourth largest city in the U.S. today. Houston is so large that you can often travel over an hour for a meeting on the opposite side of town so picking a prime location was crucial. Located in the Westchase Business District, the Houston office was strategically chosen for its proximity to the Energy Corridor and easy access to downtown and The Woodlands.
Boasting one of the youngest populations in the U.S., Houston is also a multicultural hot spot where residents speak more than 90 languages. With such a large and diverse talent pool, Orion has been able to achieve great success for our clients. Our US operations has grown from solely focusing on the oil and gas industry to branching out into life sciences and the broader energy industry where we are supporting new and existing clients in their energy transition journey.
Our North American activities now span across Anchorage, Chicago, Calgary (AB), and St. John's (NF). Our most recent addition, Jersey City, supports the offshore wind industry in the northeast region. However, none of this would be possible without our start in Houston.
We are grateful for the past 20 years and our staff and clients who have supported us. We look forward to continuing to serve our clients in Houston and beyond with their staffing needs in the years to come.
​