Back to Blogs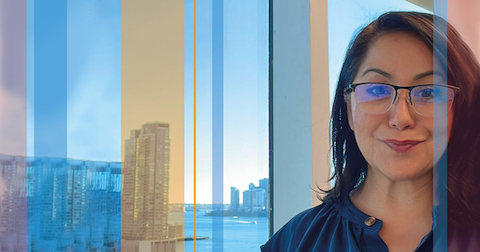 ​"Give me a challenge and I'll take it on full force": Jeanne Farias, head of Orion's New Jersey office
Jeanne Farias heads up Orion Group's new office in Jersey City, New Jersey, which officially opened this week. Jeanne has relocated from Houston to support the ambitious offshore wind projects planned for the New York Bight. With a background in both business development for engineering services and workforce development, she's the perfect fit for the job.
Jeanne Farias is a people person. She describes herself as such, but after only five minutes of speaking with her over Teams, it's plain as day. With Jeanne's friendly and enthusiastic manner and her innate ability for storytelling, it's obvious why doing a job she describes as "matchmaking" comes naturally.
Orion Group purposefully chose Jersey City as a base over Boston, where most East Coast renewable energy companies are currently based. "I really think this could be THE hub for East Coast offshore energy and other renewable energy projects," says Jeanne. She cites both the New York Bight Auction earlier this year and the recent passing of the Inflation Reduction Act (IRA), which includes huge incentives for renewable projects. The New York Bight has put NJ and NY in the lead for the US offshore wind market, and the IRA includes funding for regional clean hydrogen hubs, which the Northeast US is well positioned to lead and develop. At present, Jeanne's only company at work is the office plant - but with a gorgeous view of the Manhattan skyline, there are no complaints. Soon a new hire, a regional recruiter, will join her at the Orion NJ office - the first of many, she hopes. "We're going to need all hands on deck to help find and develop this workforce," explains Jeanne.
Looking beyond the obvious to find the right talent
On the East Coast of the US, the offshore wind industry is in its infancy compared to Europe. Currently, Jeanne and her team back in Houston are working on behalf of renewables leaders such as Ørsted, TotalEnergies and RWE, finding the talent needed to support the entire project lifecycle for offshore wind. The types of skillsets they currently need include electrical systems and transmission specialists, foundation leads and finance personnel.
"But it's not just offshore wind," elaborates Jeanne. "There are opportunities in solar, hydrogen and the grid. The opportunity and the growth potential in this region is just huge."
Jeanne spent the first part of her career in the traditional energy sector, and she still has oil and gas clients. She's grateful for the opportunities and education that came from that industry, particularly since her father was a refinery worker: as Jeanne says, it's in her blood. Now though, she's excited about focusing on clean energy and being able to support the transition of people from oil and gas to renewables. The offshore wind developers Jeanne is working with are keen to employ regional candidates, but few on the East Coast have the required experience since it's a relatively new industry. Jeanne is passionate about helping both her clients and candidates look beyond the obvious, describing it as "almost magical" when hiring managers recognise the potential in candidates they had initially dismissed. "There's an opportunity for companies to bring in someone from another sector who has the right aptitude and the ability to do the job really well, even if there's a learning curve to start with," says Jeanne. That Jeanne is able to persuade her clients to trust her judgement in these cases is testament to the long-lasting relationships she has cultivated.
Building a diverse future workforce
This outward-looking view goes beyond simply recruiting candidates from other sectors. Jeanne's vision is to widen the renewables talent pool by targeting other demographics and communicating that well-paid, long-term jobs are available. Jeanne talks about how her team was recently speaking with veterans and an energy-focused LGBTQ+ group, and how she helped a mother get back into the workforce thanks to an offshore wind job.
"It's fascinating and exciting to explore how we build the next generation of workers who have an interest in renewable energy. It reminds me a lot of the peak periods of oil and gas on the Gulf Coast when the workforce numbers just weren't there."
Jeanne has a particular interest in helping hiring managers in the energy industry employ a diversified workforce. "People of colour and women are disproportionately underrepresented in the energy sector. I have conversations about this more so than before, with people approaching me at networking events or clients bringing it up at meetings. It is promising to know that these conversations are happening and that we are all exploring how to step up when it comes to diversity and inclusion in energy."
Opportunities abound in New Jersey
What stands out when speaking to Jeanne is her enthusiasm for the job and her genuine interest in other people. And this doesn't just apply at work: two weeks following her cross-country relocation, she's already made friends in New Jersey. At the end of our conversation, Jeanne reiterates a line from her LinkedIn profile. "I'm passionate about supporting the people and projects that are critical to our global energy infrastructure - that really is me," she smiles. "It's an exciting time to be here." We couldn't agree more.
To find out more about how our Jersey City office can support the development of offshore wind (and other renewable energy projects) on the east coast of the US, get in touch with Jeanne. If you've got renewable energy experience or relevant transferable skills and are interested in working in this region, please upload your CV.