Back to Blogs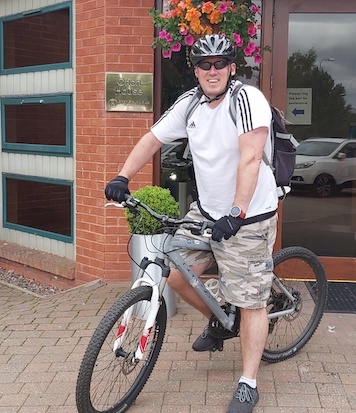 Despite living and working in Edinburgh and the fantastic bus service at that time I would always take the car to the office when I could, but when I got a job in Galashiels, I had no choice but to drive every day.Around 18 years ago I was involved in a bad accident on the way to work, not my fault and I was very lucky, and it was enough to consider significant changes, moving 150 miles north to Inverness, a change in job and lifestyle.
It took time adjusting from city life.While I lived within 10 miles of the office and despite some of the other staff cycling and even running further distances to work, I opted for the comfort of the car.One of the best things about living in Inverness is the free space all around us, I can walk to the city centre in one direction within 30 mins and 5 minutes in the other direction I can be out in the countryside. Beginning to explore the surrounding area more, a couple of new colleagues offered to take me mountain biking, even letting me borrow their spare bike for the ride.Having not been on a bike since my teenage years I began to rediscover cycling!
Picking up an inexpensive mountain bike through cycle to work scheme I had great plans to improve my fitness by cycling to work every day then getting into the hills at the weekend.While I did get out into the hills occasionally, cycling to work didn't quite click until many years later.At the time there were always 'good reasons' for putting this off, the weather wasn't great, I needed to get to the office early, I needed to pick up or drop off the kids………..Thinking back on this now the reality was that I couldn't get myself organised and there wasn't a need while I had the comfort of the car.
Inspired by the Tour de France, 7 years ago I bought my first road bike and gradually my weekend milage increased. Nothing major to begin with but it was great getting out on the bike, solitude, and a couple of hours to myself in the fresh air was great for both my physical and mental health.It was around this time that I started to get myself more organised, leaving some clothes at work and cycling in a couple of days a week.A fair-weather cyclist to begin with I'd pick which days I'd cycle to work but living in Scotland it was only a matter of time before the weather caught me out. As Billy Connolly said, "There's no such thing as bad weather, just the wrong clothing". The next test was the dark mornings and getting much colder, but I found that once I got through that first winter the weather didn't bother me. Don't get me wrong it is a definite inconvenience getting wet on the way to work but by being a bit more organised it wasn't a problem. Over the last 5 years (apart from the lockdown periods) I've cycled to work nearly every day.
It took a bit of time to grow into the idea I was going to cycle to work, and I didn't race out and buy new cycling kit, this is something I've built up over time.Honestly, at the start I didn't want to spend money on something I wasn't sure that I was going to keep up but reflecting on this now, the little that I've spent on cycling accessories over the years more than offsets the costs of second car I was considering.
With the current rising costs of living, if you live within a reasonable commutable distance from work cycling is definitely a viable option to consider.If you employer also offers a cycle to work scheme you not only save on fuel costs but paying paying by salary sacrifice deductions (before NI & Income tax) could also save a significant amount on the bike and the cost of safety accessories such as helmet, high viz clothing, Locks, lights etc.
You don't need to jump in and fully make the commitment to cycling to work, give it a go.Try cycling past your work place at the weekend, see how long it roughly takes. Think about having a change of clothes at work.In addition to saving, you some money there are many other well documented benefits including improvements to your physical and mental health.